So
Vector MotorSports
- a fairly well known tuner for Corvettes/GTO's etc - came out with a 'Heat Soak Reduction Kit'. Basically a better sensor that reacts quicker to changes in air temperature than the crappy stock one. It roughly looks like this one:
From their Site:
"Vector Motorsports is proud to introduce our Heat Soak Reduction Kit (HSRK) that will help you get the most of your GM vehicle. The kit includes all plug and play OEM quality components with no need to splice or cut the factory harness and we've done away with those slow GM OEM temperature sensors in favor of one that we designed that responds nearly ten times faster! This has proven to not only make vehicles more consistent but also obviously faster due to the lack of timing retard being pulled from false readings such as in the staging
lanes at the drag strip where a normal IAT sensor may just start to measure a change by the end of the quarter mile. "
Connecting it was easy - just unplug the MAF sensor, plug that in to the new connector, and new connector back into the MAF unit. Now the hard part was trying to figure out WHERE to mount the sensor. There have been various opinions going back & forth online on the best location.
A member of
G8Board.com
named Charlie (GRRRR8) did some testing and came up with the perfect location if you had a Roto-Fab CAI installed, which I did right before. (in fact I ordered the heatsoak kit before I even ordered the CAI!).
Basically it would go right into the base of the CAI and right before the Maf Sensor. Using a step-drillbit I kept on drilling untill i finally had it large enough so that the grommet that I got fit which is about
3/4"
. I got a
Dorman HELP! PCV valve
grommet
, part number 42058
. supposedly for a '74-'79 Toyota from AutoZone. It fit around the sensor VERY snugly and it was a bit of a struggle to get into the hole I drilled with the sensor in it already. Finally it did though but upon running and checking with a piece of string I noticed that the area around the grommet was not airtight as the string would be sucked up against it. ... Oh well quick dab of silicone caulking all the way around sealed it just perfectly.
Here are the pictures from Charlie showing the install position of the sensor: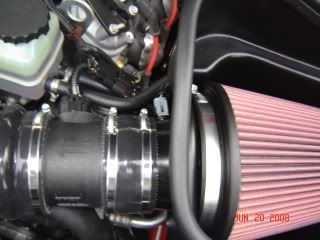 If you're interested to see what else Vector can do, visit them here:
http://www.vectormotorsports.com/